---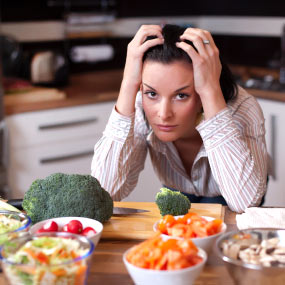 Admit it. You ask yourself that question every day. Right? It's become a modern plague. We don't have time to cook for ourselves and the trash on offer at the store in the form of ready meals, well you know. It doesn't look very good, taste very good and let's face it, if it sits on a shelf for weeks and stays fresh it can't be very good. Problem is cooking from scratch takes too long, the recipes are hard to follow and it's almost impossible to get it all in a convenient place to use for reference.
2020 Meals is a meal planning service that simplifies your meal time and helps you maintain a healthy lifestyle. Imagine having set meals available at your finger tips. We use a 20 core ingredient shopping list with recipes taking 20 minutes or less to cook. This means you don't have to pull your hair out choosing what to eat every day or what to buy to make it. All of our meals are designed to be extremely simple with a burst of flavor so you can actually enjoy what you are eating.
If you don't like the set meals, no worries, you can head on over to your online planner and ditch anything you don't like. Swap meals in and out as much as you want. Just gather your shopping list and you can have all your meals set and ready to go for the week. Easy as shop, prep, cook!
Eating ready meals is not the way forward, and even eating out is getting too expensive. You know that already. So why don't you start doing something different this year?
Why don't you cook for yourself, but in an easy, step by step way. With a little guidance and help you could be eating 3 square meals a day that your body will love.
It's time to get smart about what you eat, so let's start now!
---
| | |
| --- | --- |
| Super Foodie Plan | The Chef Plan |
| Online & Mobile Planner Access | Online & Mobile Planner Access |
| | |
| | |
| | |
| | |
| | |
The Super Foodie plan is just $9.99 per month and The Chef plan is $12.99 per month. We also offer yearly memberships available at a discounted rate.